The puzzles on the archive page are no longer available. We do not reproduce them unless otherwise stated in the product description.
---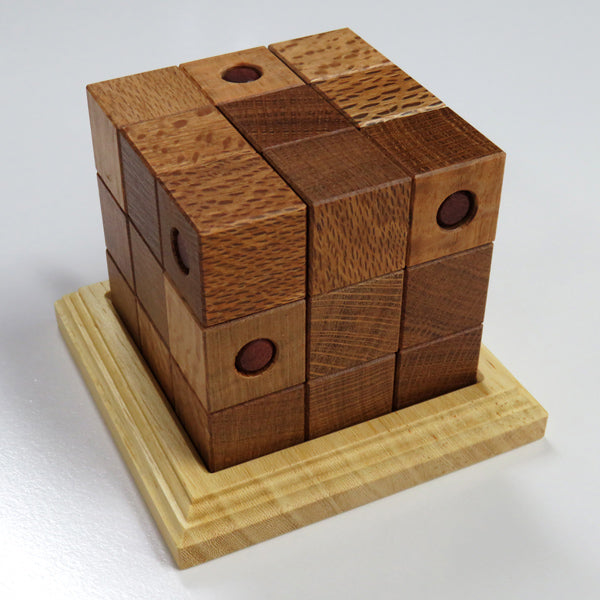 Loopy L Cube #3
This is the third version of the Loopy L Cube series puzzle and the most difficult one among three. Loopy L Cube #1 can be recommended even to 6 year old kids and #2 is a lot harder than #1 because of the increased possible combination of the pieces thanks to the through holes on the pieces. #3 also has through holes and their shape is a simple cylinder. This feature increases more possible combinations of the pieces and makes the puzzle trickier.
Although we didn't have to use the CNC router for the L-shaped pieces, it required plenty of time to produce our original dowels made of Jarrah. Juno has done lots of experiments for the dowel making jigs and he finally got a satisfactory result for the finish and accuracy.
The same as #1 and #2, the puzzle comes with a tray. This time, we chose Koto timber for the material to make a good contrast to the darker cube pieces.
Please be assured that the images on the bottom don't represent the unique solution of the puzzle. These images don't give you a clue of the puzzle so as not to spoil your fun. If you can solve the puzzle within an hour without any hints, you should be very proud of it.
---
Size: 74 mm x 74 mm x 74 mm (Cube)
Number of pieces: 9 + tray
Material: Silky Oak, Jarrah and Koto
Designer: Junichi Yananose (Juno)
Origin: Made in Australia
Ages: 12+