The puzzles on the archive page are no longer available. We do not reproduce them unless otherwise stated in the product description.
---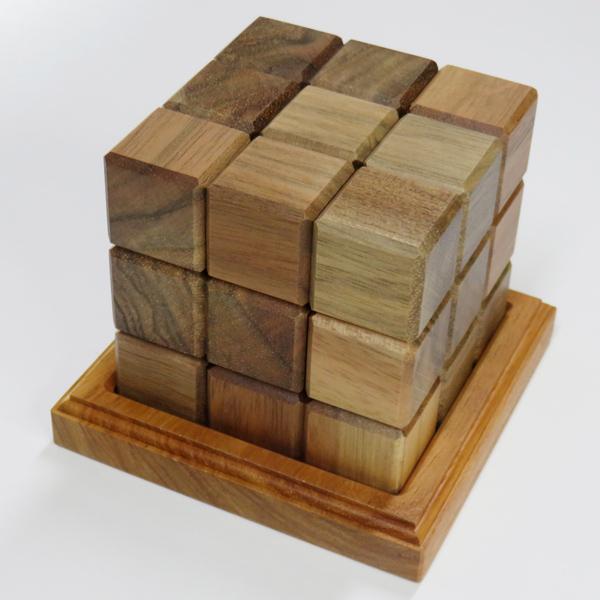 Loopy L Cube #1
This is a relatively easy puzzle and it can be enjoyed by a small, around 6-year old kid. If you are observant to check the difference of each piece, and do the puzzle strategically, it can be solved in a short time, though it is still challenging to non-puzzle people.
We have been producing many kinds of burr puzzles, puzzle boxes and sequential discovery puzzles and it will be a good time to add a puzzle that is categorized in the put-together genre. As you can see that the puzzle has #1 on the end of its name, we might produce different versions of similar puzzles in the future since Juno already has several ideas of this kind of puzzle in his mind.
By observing the shape of each individual piece, you will notice that none of a single piece can be taken out from the assembled shape because the axes of the white tongue and the groove of each piece are not parallel. Juno carefully chose this selection of the pieces among hundreds of candidates to make the puzzle enjoyable or tricky. If the 3 x 3 x 3 cube consists of simple L-shaped triominos, the puzzle has 111 solutions but this puzzle has only one.
The puzzle comes with a tray made of PNG Rosewood and once the assembled cube is being put on the tray, the cube won't come apart even if the tray is tilted. Both the tray and the pieces have a very smooth surface and it gives a good feeling on your hands.
The puzzle is sold disassembled. The solution to this puzzle will be supplied upon request by Burr Tools file format.
---
Size: 75 mm x 75 mm x 75 mm (Cube)
Number of pieces: 9 + tray
Material: New Guinea Walnut, Silver Ash (citrus family tree) and PNG Rosewood
Designer: Junichi Yananose (Juno)
Origin: Made in Australia
Ages: 6+