The puzzles on the archive page are no longer available. We do not reproduce them unless otherwise stated in the product description.
---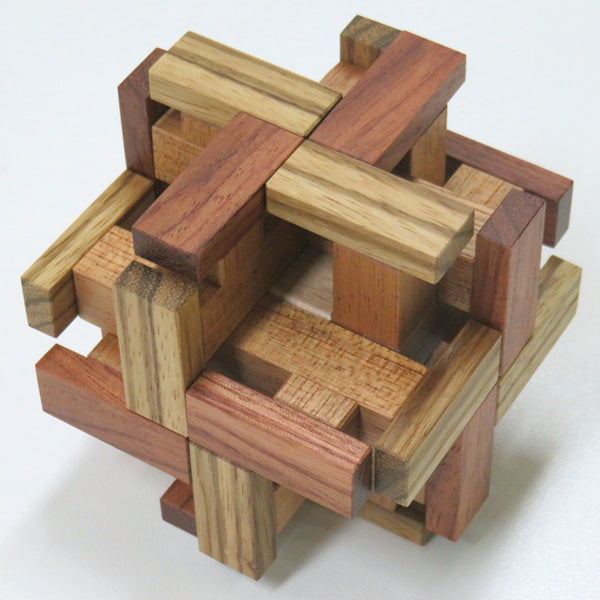 Windmill Burr #2
An interlocking puzzle designed by Junichi Yananose (Juno) in 2012. He decided to put a cube inside the puzzle in 2017 to give more contrast with the colour of the timber.
The shape of the puzzle is similar to his former design Windmill Burr released by Mr Puzzle as a Limited Edition in 2010. Because Juno doesn't have a good sense of naming puzzles, he just added #2 to the name of his new design.
Disassembling the puzzle may not be too difficult since the pieces will eventually come apart by the number of attempts. However, it is diabolically difficult to find a unique solution of the puzzle, and assembling it even with computer aids.
Burr Tools, the most popular computer program for interlocking burr puzzle lovers says that it requires 18 moves to take the first piece apart with or without the internal cube. Well, could you find a shortcut solution which requires less than 10 moves?
A shortcut solution can be easier to understand the orientation of the puzzle pieces and it makes it easier to physically assemble the puzzle using only two hands.
The solution to this puzzle will be supplied upon request by Burr Tools file format.
---
Size: 90mm x 90mm x 90mm
Number of pieces: 13 (12 pieces + cube)
Material: Queensland Maple, Zebrano, Bubinga and Victorian Ash
Designer: Junichi Yananose (Juno)
Origin: Made in Australia
Ages: 12+