---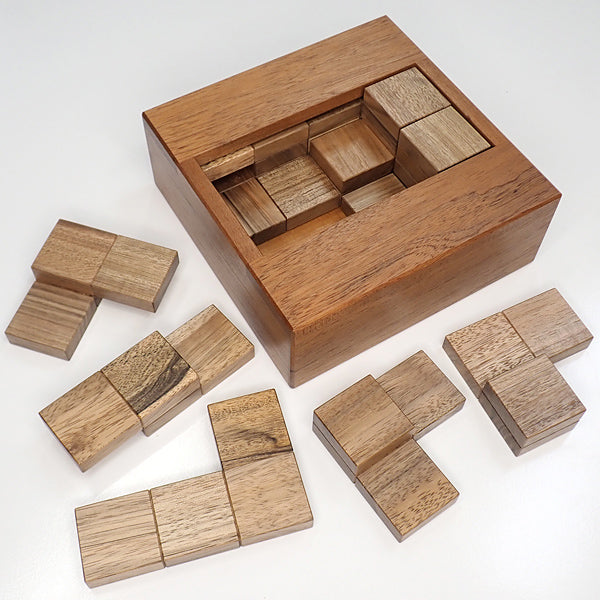 Squashed Tetra
This puzzle is the only one in the world. There is even no designer's copy.
After making the Euroka 10x3, Juno decided to use up the wood offcuts because it was such a waste. He was able to get a bit under 64 square elements, so he designed a puzzle consists of 56 elements. He achieved a total of 56 elements by omitting cuboid-shaped pieces in all combinations of squashed tetra cubes.
This puzzle box has a small opening at the top, suggesting that it is a puzzle with restricted motion. BurrTools found 39736 solutions that did not account for rotational movements. It sounds simple, but there are 100x more assemblies that can't fit all the pieces into the box.
The puzzle is huge and heavy. Please note that shipping costs will be slightly higher than our regular products.
Shipping weight of the puzzle will be 2kg.
The puzzle is sold assembled. The solution to this puzzle will be supplied upon request by Burr Tools file format.
---
Size: 199 mm x 199 mm x 73 mm
Number of pieces: 14 + Box
Material: New Guinea Walnut and Queensland Maple
Designer: Junichi Yananose (Juno)
Origin: Made in Australia
Ages: 6+