The puzzles on the archive page are no longer available. We do not reproduce them unless otherwise stated in the product description.
---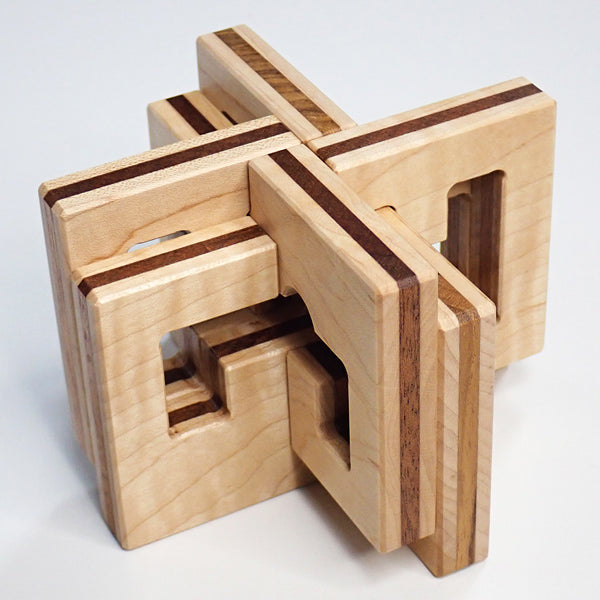 Puzzle Turbine
Although the puzzle consists of only four pieces, it requires 38 moves to remove the first piece from the assembled shape. The movements required to assemble and disassemble the puzzle are so complex that it is quite difficult to comprehend whether you are moving forward or backwards. The key of such high level burr is the stepped shape of the pieces. This feature also made the assembled shape of the puzzle more attractive.
Eight magnets are used to keep the puzzle stabilized when it is assembled. Without the magnets, each piece would be free to move, and the puzzle would tend to become unstable. When the puzzle is assembled and you come close to the goal, the magnets attract pieces together and it will give you a good feeling. The magnets are all set 0.1 to 0.2 mm below the surface of the piece, so there is no chance the magnets accidentally come loose.
As you can see in the images, one of the pieces has an arc-shaped internal checkout. It gives you a pathway for a genuine rotational movement so that the puzzle can be solved only by theoretically possible movements. Since we usually take off almost all the sharp corners of our puzzle products, the actual puzzle can be solved by cheating by giving a rotational movement using the L-shaped space. We hope you could solve the puzzle in a genuine way.
The solution to this puzzle will be supplied upon request by Burr Tools file format.
---
Size: 94 mm x 94 mm x 75 mm
Number of pieces: 4
Material: American Rock Mapele, and Utile
Designer: Junichi Yananose (Juno)
Origin: Made in Australia
Ages: 12+
The solution to this puzzle will be supplied upon request by Burr Tools file format.
---
Size: 94 mm x 94 mm x 75 mm
Number of pieces: 4
Material: American Rock Mapele, and Utile
Designer: Junichi Yananose (Juno)
Origin: Made in Australia
Ages: 12+