The puzzles on the archive page are no longer available. We do not reproduce them unless otherwise stated in the product description.
---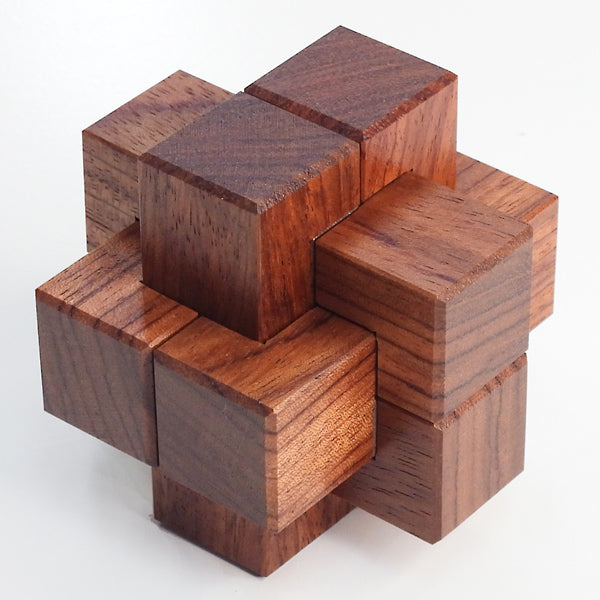 Neptune
Neptune is a relatively simple and easy burr puzzle, requiring only 6 moves to disassemble. At first glance, it may appear to be an ordinary 6-piece burr puzzle, but like many puzzles designed by Juno in the past, it has its unique features that set it apart from typical burr puzzles. For those who don't want to spoil the enjoyment and surprise of playing with the puzzle, it might be better not to look at the images at the bottom of the page.
The puzzle is made from Bubinga, which has a beautiful grain pattern and is both hard and durable. The end of the pieces have larger chamfers, and the notches on the pieces are chamfered to a degree that won't harm your fingers. Throughout the entire process, the time spent on tasks like chamfering, sanding, and spray painting (clear lacquer coat) is approximately double the time it takes to complete the notching process, starting from lumber processing.
We believe that Neptune can be enjoyed even by those who find some of the puzzles designed by Juno to be too difficult to handle.
The puzzle is sold assembled. The solution to this puzzle will be supplied upon request by Burr Tools file format.
---
Size: 77 mm x 77 mm x 77 mm
Material: Bubinga
Designer: Junichi Yananose (Juno)
Origin: Made in Australia
Ages: 9+
The images below may take some of the fun out of playing with puzzles.