The puzzles on the archive page are no longer available. We do not reproduce them unless otherwise stated in the product description.
---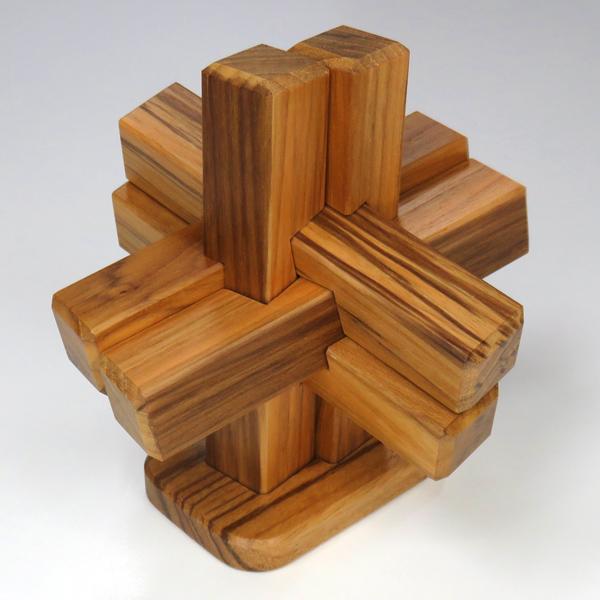 Merope
Merope is a 6- piece non-orthogonal interlocking burr puzzle. The puzzle is a relative of Alcyone. Merope, Alcyone, both stars named from the constellation of Taurus.
After Juno started producing Alcyone, he thought that it would be more interesting if he could produce another puzzle reusing the table saw jigs that are to used to make slanted checkouts. (He just doesn't want to repeat the same job again and again.)
He did several experiments using CAD software and found a good combination of the six pieces for Merope. The same as Alcyone, there are no simple stick shape pieces, meaning that none of the single pieces are taken out from the assembled shape individually.
We value that the puzzle is easier than Alcyone because of its assembled shape that is a bit similar to an ordinal notchable six-piece burr. If you are used to those traditional level-1 six-piece burrs, you can solve Merope maybe in 10 minutes.
The assembled puzzle is stable on the flat surface, but it anyway comes with the base made from gorgeous Zebrano timber.
The puzzle is sold DISASSEMBLED to save the shipping cost. The printed solution of the puzzle is enclosed.
---
Size: 120 mm x 120 mm x 120 mm
Number of pieces: 6 pieces + Base
Material: Burmese Teak and Zebrano
Designer: Junichi Yananose (Juno)
Origin: Made in Australia
Ages: 12+