The puzzles on the archive page are no longer available. We do not reproduce them unless otherwise stated in the product description.
---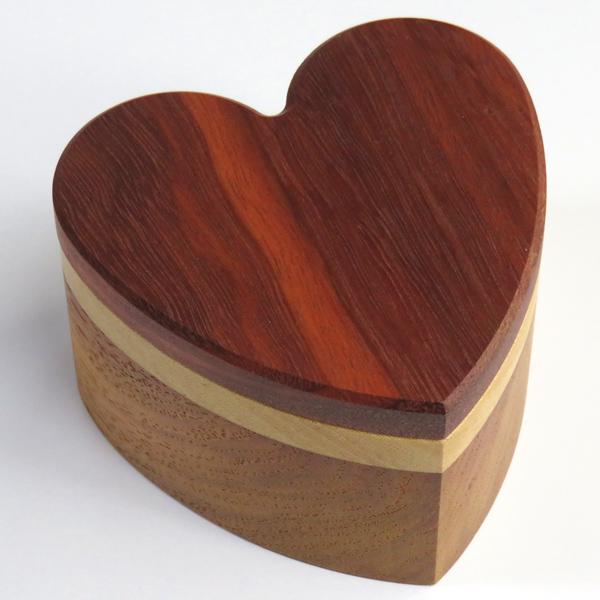 Heart Case
We have released Diamond Case and Club Case in the past and this is the third one of the trump card series puzzle boxes. We presume that Heart Case is easier than the previous two puzzles, yet it requires several unusual steps to solve. Like most of Juno's former designed puzzle boxes, bashing, tapping and centrifugal forces are not necessary to open it.
Heart Case is also categorized as a sequential discovery puzzle because there are some tools used to open the box. One of the tools has Juno's branding (his nickname) on the surface and it might lead to misunderstanding when you use the puzzle as a gift especially to someone who you are in love with. Please check the comic on the bottom of the page and if you have concern about such a misunderstanding, please let us know by writing a comment. And then, maybe we can somehow help you.
Juno had a featured, basic idea of this puzzle more than 20 years ago but he was reluctant to produce even a prototype at that time because of the difficulty and time inefficiency of the production. Like Quartet Box, using the CNC router made the production of the puzzle realistic.
The compartment of the puzzle also has another heart shape, 58 mm in width, 52 mm in height and the depth is 21 mm.
The puzzle is sold assembled. The printed solution of the puzzle is enclosed.
---
Size: 86mm x 83mm x 56mm
Number of pieces: 5
Material: PNG Rosewood, Jarrah, Koto and metal parts
Designer: Junichi Yananose (Juno)
Origin: Made in Australia
Ages: 12+
What we afraid is the possibility of misunderstanding like next.


The comic was drawn by Yukari, one of the owners of Pluredro shop.