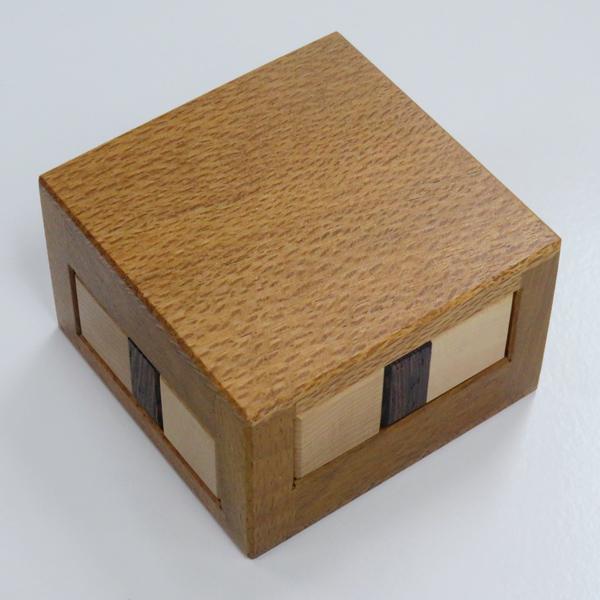 We have 26 in stock
This four-piece framed burr has a unique level 16-1-2 solution.
Even if you are handed the puzzle disassembled, it will be quite easy to find the orientation of the four internal pieces. The black block attached to the end of each piece restricts the possible orientation of the pieces in the frame. The shape of the checkouts on each piece also gives you a good hint.
The difficult part of the puzzle is how to move each piece in the frame to reach the goal. The puzzle has vast voids in the frame considering its size and the pieces sometimes move toward an unexpected direction. It feels somehow like the pieces are floating around in the frame. Overall, the puzzle is relatively easy compared to many of Juno's diabolical burr puzzles and it can be solved by non-puzzle people with some patience since it doesn't require 3-dimensional movement.
The main part of the internal pieces is made of American Rock Maple. The black end pieces which have very characteristic grain are Wenge. Silky Oak is used for the top and bottom panel of the frame and the rest are Iroko.
The solution to this puzzle will be supplied upon request by Burr Tools file format.
---
Size: 79 mm x 79 mm x 50 mm
Number of pieces: 4 + Frame
Material: American Rock Mapele, Wenge, Iroko, and Silky Oak
Designer: Junichi Yananose (Juno)
Origin: Made in Australia
Ages: 9+