The puzzles on the archive page are no longer available. We do not reproduce them unless otherwise stated in the product description.
---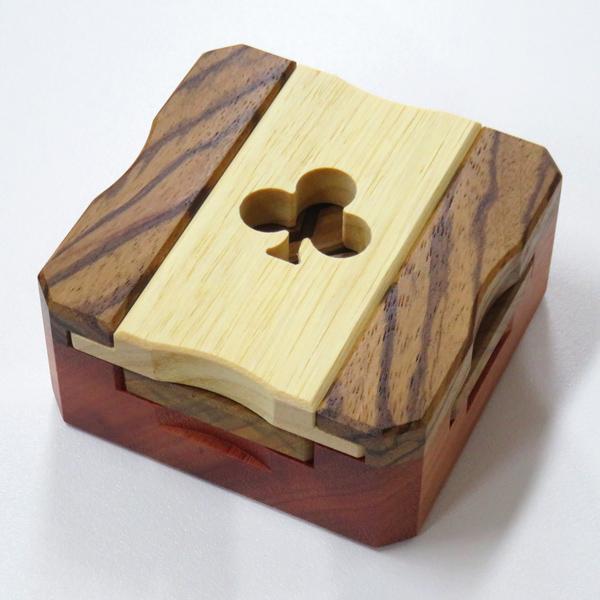 Club Case
This is Juno's third puzzle box product.
It's a good idea to run the CNC router while Juno has been working for complex polyhedral shape burr puzzles because the CNC router does repetitive job without complaining with good accuracy and it increases productivity a lot. So, he designed the secret puzzle box to be hard to make by traditional wood working machinery, but can be efficiently made by the CNC router.
While he was playing with the prototype of the puzzle, he thought that it was interesting to make a hole on the lid and show a part of the trick of the puzzle rather than making the puzzle as a black box. Now the question is what kind of shape of hole would be suitable for the lid? Since he has designed Diamond Case before, it's worth challenging making a hole-shaped Heart, Spade or Club, then he can complete a series of trump cards. The key pieces seen from the hole are made of Burmese teak and the colour of the timber is dark brown. Yep, Hearts would be eliminated. Juno thinks that Clubs would be most difficult to be used for wooden puzzles and if he uses Clubs now, the last two challenges will be easier. He prepared lots of extra pieces for the lid and chose the best ones from the survived parts.
The puzzle box is weird as many of his other puzzle designs. You will easily find what you should do to open the box but the unusual movement of the key pieces will trick and confuse you.
We believe that this puzzle box will give you a fun puzzling time.
The shape of the compartment is ellipse, 72 mm major axis, 44 mm minor axis and the depth is 15 mm.
The puzzle is sold assembled. The printed solution of the puzzle is enclosed.
---
Size: 96mm x 96mm x 45mm
Number of pieces: 4
Material: Karri, Koto, Burmese Teak, and Zebrano
Designer: Junichi Yananose (Juno)
Origin: Made in Australia
Ages: 12+
Mechanism and tricks of Club Case