The puzzles on the archive page are no longer available. We do not reproduce them unless otherwise stated in the product description.
---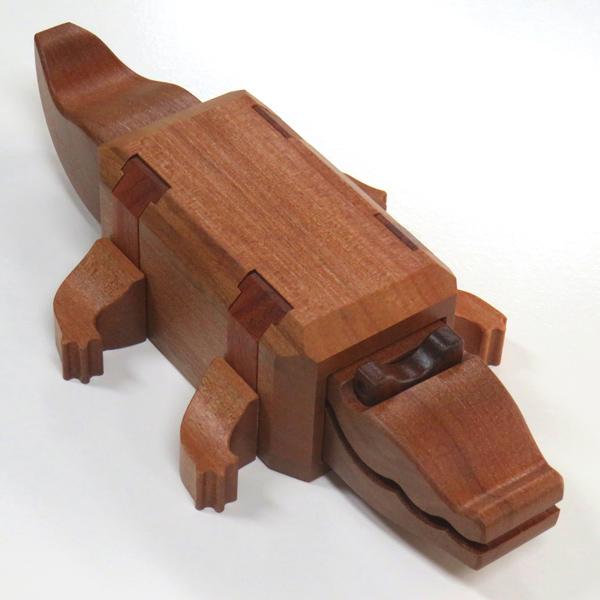 Chubby Crocodile
Find treats in the stomach of the chubby crocodile! We have produced a total of five kinds of stomach contents of this wild reptile and hid one or two of them in his belly.
The puzzle is a bit tricky to categorize but since it has an internal cavity, we can at least call it a puzzle box. Juno's initial idea of the puzzle was a burr or kumiki and its motif was a tortoise, and realizing it was a bit too skinny, he decided to modify its shape to a crocodile.
Once you hold the puzzle in your hands, the first move is obvious, and you can guess what you need to do. When you progress solving the puzzle, you may notice a little twist of the movements. The last step of the puzzle is easier and the entire puzzle itself is not very difficult. It could be enjoyed by puzzle beginners as well.
Very intensive cnc milling work is done to the puzzle. To keep the accuracy, precision and tolerance of the puzzle, even the four t-slots were also finished by a cnc router. Of course, we have used general woodworking machinery, like a thickener, jointer, table saw, drum sander, band saw, disk sander, belt sander, drill press, router table and so on. Our small workshop seems to be fully equipped but the man who designed the puzzle likes wasting money on tools and machinery. Maybe we should put him in the stomach of Chubby Crocodile.
Please be careful about the position of the internal pins not to scratch on the surface of the body part of the crocodile. No force is required to solve the puzzle. Please play with it in a gentle manner.
The puzzle is sold assembled. The solution to this puzzle will be supplied upon request.
---
Size: 19.2 ft 192 mm x 96 mm x 43 mm
Number of pieces: 5 + treats (The legs can not be removed.)
Material: Rose Alder, Jarrah and metal parts
Designer: Junichi Yananose (Juno)
Origin: Made in Australia
Ages: 12+