The puzzles on the archive page are no longer available. We do not reproduce them unless otherwise stated in the product description.
---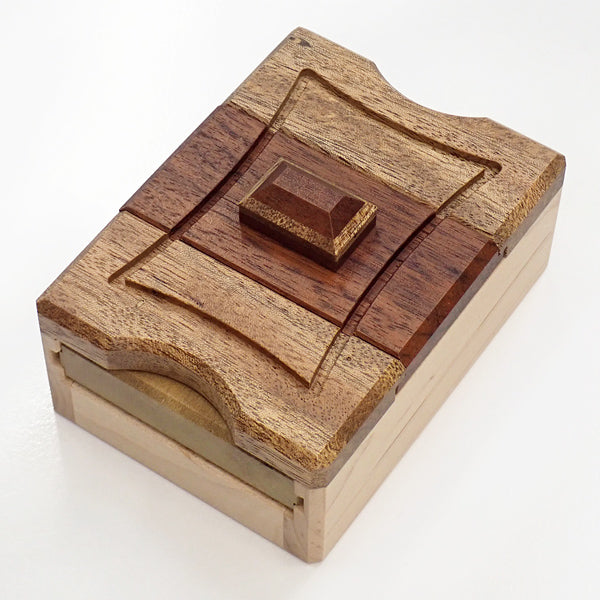 Card Case
This puzzle box is sized to hold a regular-sized credit card. Its size is 85.6 x 53.98 mm or 3.37 x 2.125 inches, so it can also be used as a gift box containing a gift card and so on. This puzzle can be classified as a hidden maze-type puzzle box, but as you play with it, you will be able to partially see the hidden paths and reach the goal if you persevere in your efforts.
As you begin to play, you will notice that there is more than one challenge to the puzzle. One of them is a bit more subtle: removing the red-colored slider at the top without using an external tool.
Unlike most of our puzzle products, the solution to the box is not provided. Instead, you can easily cheat, and you will be able to access the maze diagram hidden in the box. You don't have to use force to play with the puzzle, even in case you are going to cheat. No bashing or violent shaking is needed.
The top layer of the puzzle, including the knob, is made of Jarrah and sap wood of Bubinga, both of which have very distinctive textures. American Rock Maple was used for the main part of the box frame and Golden Sassafras for the maze area, which has good workability with a CNC router.
---
Size: 112 mm x 82 mm x 57 mm
Number of pieces: Secret
Material: Bubinga (Sap wood), Jarrah, American Rock Maple, Golden Sassafras and Plywood (Oak + Poplar core)
Designer: Junichi Yananose (Juno)
Origin: Made in Australia
Ages: 12+