The puzzles on the archive page are no longer available. We do not reproduce them unless otherwise stated in the product description.
---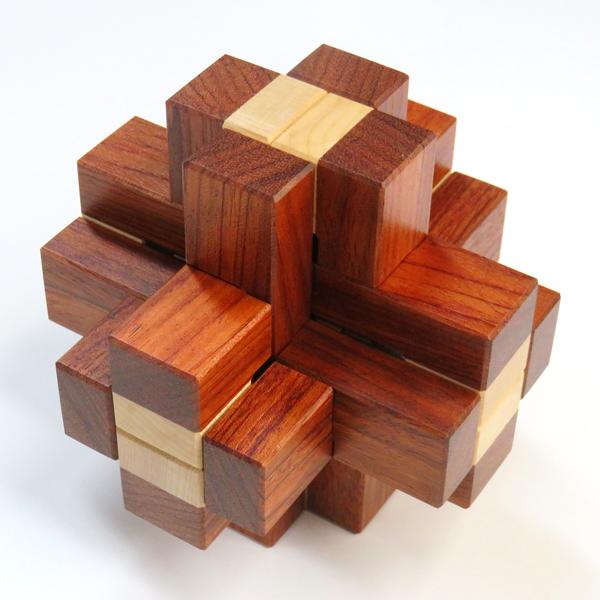 Beauy Kruse
This twelve-piece burr puzzle is quite big and it looks stunning. The puzzle is based on the famous Altekruse puzzle and its configuration is very similar to Juno's former design Burrliner Kruse produced by Mr Puzzle.
Thanks to the white colored end blocks, the orientation of the pieces is restricted and it gives a unique level 10-2 solution to the puzzle. Although, it might sound easier considering the numbers of moves to assemble/disassemble the puzzle, it is quite challenging and we are unsure how many burr lovers can actually solve the puzzle without any clue.
Two kinds of Juno's favorite timber, Bubinga and American Rock Maple are used for the puzzle. Both species are dense, and have gorgeous and characteristic grain. The puzzle is named after the suburb (Beaudesert) where we live and run our business.
The solution to this puzzle will be supplied upon request by Burr Tools file format.
---
Size: 122 mm x 122 mm x 122 mm
Number of pieces: 12
Material: Bubinga and American Rock Maple
Designer: Junichi Yananose (Juno)
Origin: Made in Australia
Ages: 12+