The puzzles on the archive page are no longer available. We do not reproduce them unless otherwise stated in the product description.
---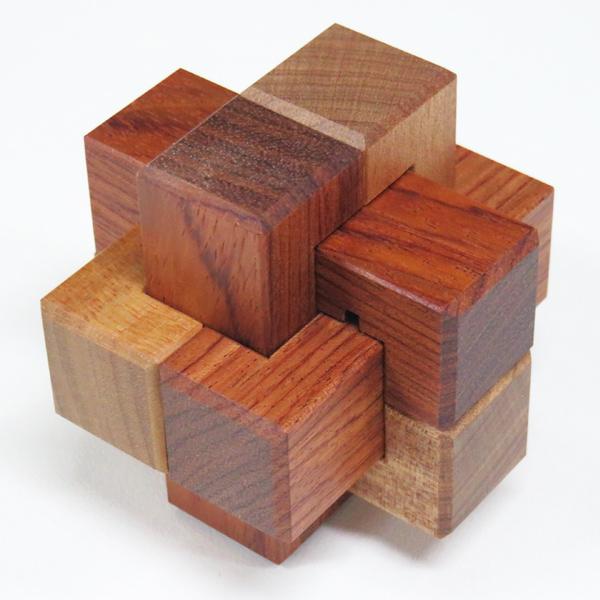 A Mazing Burr
Juno has a good reputation for designing weird six-piece burrs and we have confidence that A Mazing Burr is one of them. When he started designing mechanical puzzles seriously, it was too late to design ordinary six-piece burrs because all the possible combinations of ordinary six-piece burrs were already computer analysed. Therefore, he thought about the extraordinary possibility of burr puzzles and designed 6 Board Burr, L Burr, Uranus and Crooked 6 Piece Burr in the early 90s. The burr puzzle lovers might know some of his intriguing new designs, like Six of One, Half a Dozen of Another burr produced by Mr Puzzle and Inaccurate Burr produced by Eric Fuller.
A Mazing Burr is as funny and weird as his previously designed puzzles. There are mazes on the puzzle pieces and pins travel in those grooved mazes. There are many dead ends and ironically, the dead end shape of the groove does not always mean dead end of the puzzle. The puzzle requires multiple coordinated motion for assembling and disassembling.
When you see the assembled shape of the puzzle, you will recognize one visible groove shown from outside of the puzzle. Did Juno mistakenly made the groove? No, he also considered non visible groove versions of the puzzle, and thought that it was more interesting to have a visible groove on the puzzle. The groove also characterises the puzzle and it stands out when you see this puzzle among lots of ordinary six piece burrs on a collector's shelf.
By counting every small steps, the puzzle requires 17 moves to take the first piece apart from the assembled shape but it is not terribly difficult. Please be assured it comes with a very detailed solution both to assembling and disassembling.
---
Size: 72mm x 72mm x 72mm
Number of pieces: 6
Material: Bubinga and Queensland Maple
Designer: Junichi Yananose (Juno)
Origin: Made in Australia
Ages: 12+