The puzzles on the archive page are no longer available. We do not reproduce them unless otherwise stated in the product description.
---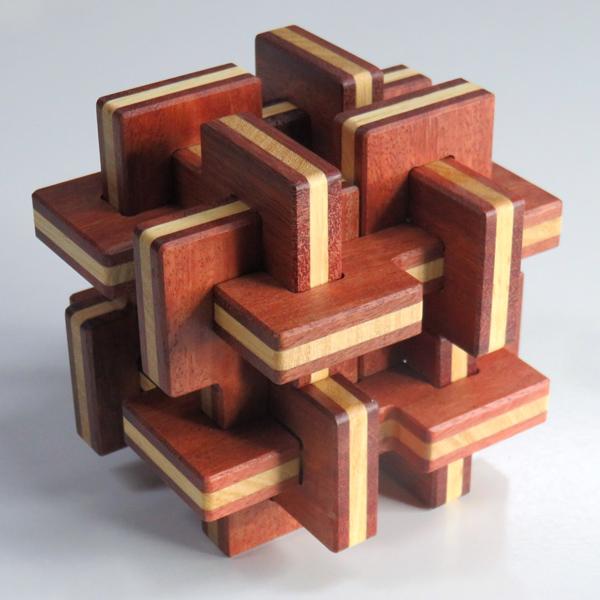 Tangled Clip Burr
This is a twelve-piece board burr puzzle that requires 15 moves to take the first piece apart from the assembled shape. The shape of the puzzle pieces looks like a paper clip and the pieces are quite tangled together when it is assembled.
Juno designed the puzzle in 2013 but he didn't think of producing the puzzle because if solid timber or acrylic is used for the puzzle, the pieces easily crack and break. If small blocks are glued together, the production work is very time consuming and the glued pieces still have to be reinforced to increase durability. It is a good idea to use plywood for this kind of puzzle, so Juno decided to make plywood by himself since the quality of commercially sold plywood is not so excellent. Jarrah and Koto are laminated to make grains of two kinds of timber at a right angle. Thanks to the crossed grain, the puzzle pieces become quite durable and it is almost impossible to snap.
You may not recognise it by the measurement of the puzzle but once you hold it, you would feel it is big, solid and heavy. The assembled shape has higher symmetry and it stands out thanks to the contrasted color.
The difficulty of the puzzle is extreme, even harder than its relative 3D Shuriken.
The puzzle is sold assembled. The solution to this puzzle will be supplied upon request by Burr Tools file format.
---
Size: 96 mm x 96 mm x 96 mm
Number of pieces: 12
Material: Jarrah and Koto
Designer: Junichi Yananose (Juno)
Origin: Made in Australia
Ages: 12+