The puzzles on the archive page are no longer available. We do not reproduce them unless otherwise stated in the product description.
---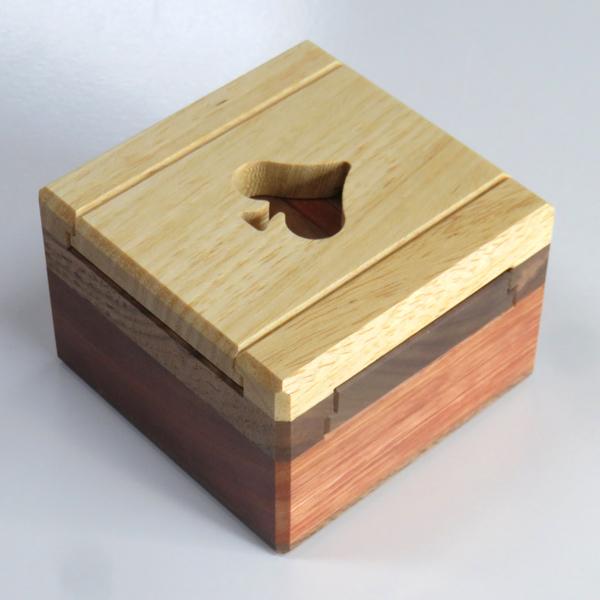 Spade Case
This is the last one of our trump card series puzzle boxes. Please also have a look at the former three puzzles, Diamond Case, Club Case and Heart Case on the puzzle archive pages.
The first look of Spade Case is a bit similar to Club Case but the mechanism of the two puzzles is totally different. Bashing, tapping and centrifugal forces are not necessary to open the puzzle box. So what else can you do with the puzzle? Just use your imagination and try something different. We expect and hope that many puzzle box collectors say, "I have never seen this kind of trick."
This is a relatively easy puzzle. Once you find the key feature of the puzzle, it wouldn't be too difficult to open the box.
The compartment of the puzzle has a square shape with rounded corners, 54 mm in width, 54 mm in height and the depth is 30 mm.
The puzzle is sold assembled. The printed solution of the puzzle is enclosed.
---
Size: 89mm x 89mm x 60mm
Material: Karri, American Black Walnut, Koto etc.
Designer: Junichi Yananose (Juno)
Origin: Made in Australia
Ages: 12+