The puzzles on the archive page are no longer available. We do not reproduce them unless otherwise stated in the product description.
---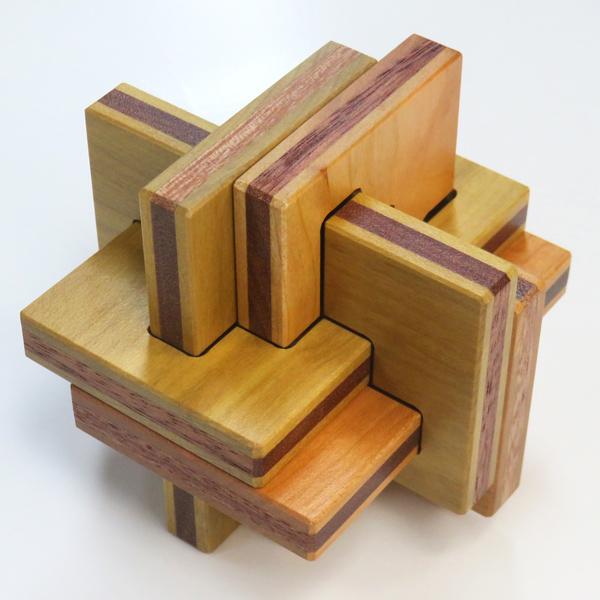 6 Board Burr 5x8 #02 (3 colors)
The only difference to the 2 colors version is the material.
This arduous board burr has a unique level 15-14-8-2-3 solution. After removing the first piece from the assembled shape, you still face another challenge to remove the second piece. At some point, a few pieces tend to rotate but a shortcut solution using rotational movement will not be possible for removing the first and the second pieces as Juno inspected by himself.
We guess some of our customers think that's why the puzzle has #02 on the end of the name? It was because Juno designed its first version #01 way back in 2007 and we had produced only a couple of miniature versions of them. #01 had a level 5-11-4-3-3 solution and he thought that it was a bit mediocre for our regular product since there were lots of high-level burr puzzles in the puzzle world when we put one of the miniature versions on eBay auction in 2018.
The puzzle is made of our original plywood. American Cherry and Sassafras are used for the outer layer and the darker timber used for the inner layer is Amoora.
The solution to this puzzle will be supplied upon request by Burr Tools file format.
---
Size: 96 mm x 96 mm x 96 mm
Number of pieces: 6
Material: American Cherry, Sassafras and Amoora
Designer: Junichi Yananose (Juno)
Origin: Made in Australia
Ages: 12+